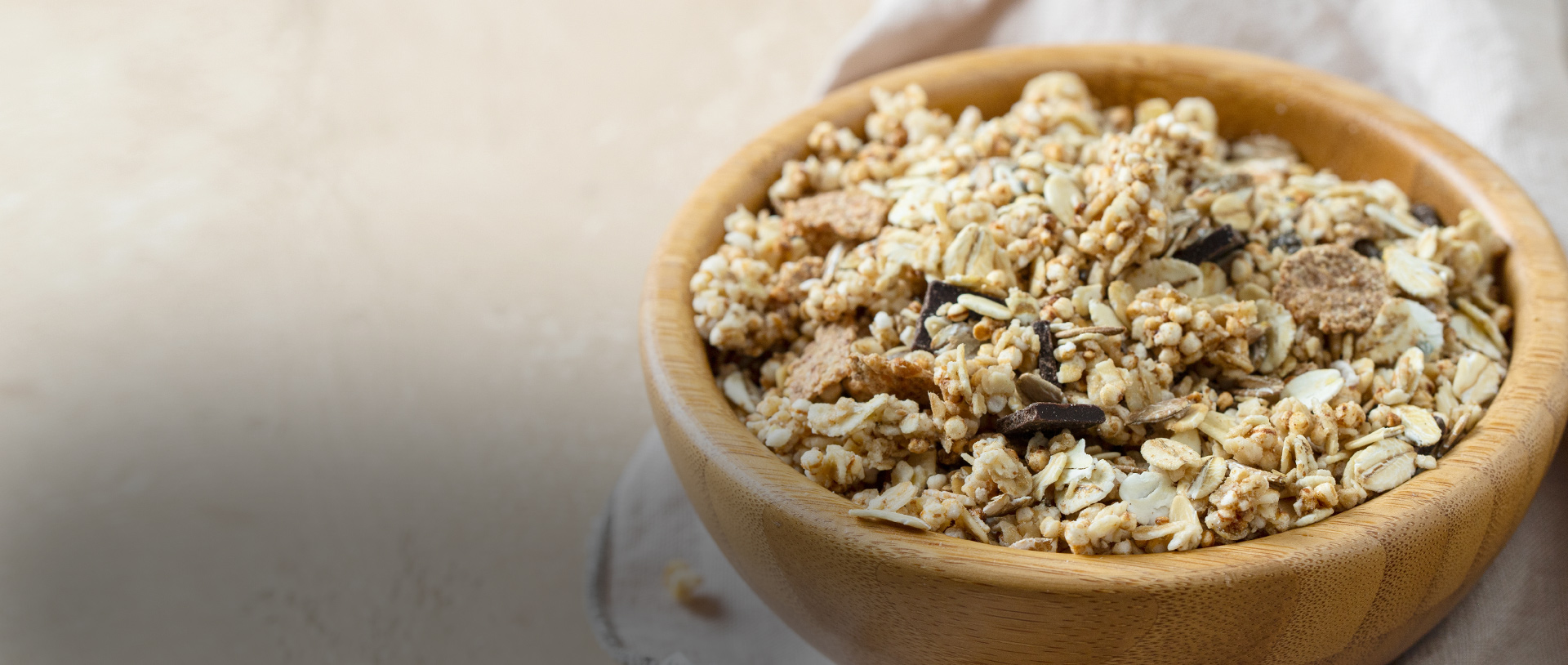 Sarah's "How I Quit Chips" granola
Sarah's "How I Quit Chips" granola
Dry
2 cups Whole grain rolled oats
½ cup Walnut pieces
6 Tbsp. Chia seeds
¾ cup Almond slices or slivers
¼ tsp. Salt
¼ cup Brown sugar
1 tsp. Cinnamon
Wet
2/3 cup (5 Tbsp.) Butter (melted)
1/3 cup Honey
1 tsp. Vanilla
Instructions
Preheat oven to 350 degrees
Add at the end: 1 egg white (whipped).
Mix dry and wet ingredients in separate bowls. Make sure honey and butter mixture is thoroughly mixed and smooth. Use your (clean) hands to thoroughly mix the dry ingredients and break up any brown sugar lumps. Pour wet mixture over dry mixture and blend completely. Next, separate one egg white (discard yolk) and whip it using a fork or whisk until frothy. Pour egg white over the wet/dry mixture and blend thoroughly with a spoon or spatula. It's important to add the whipped egg white separately at the end as this is what will make the granola stick together and form clumps or big pieces.
Grease a baking sheet however you prefer. (I use spray butter.)
Spread granola mixture onto baking sheet, making sure to distribute evenly out to the edges. I use a spatula to flatten it in the baking sheet, and make sure the middle is pretty thin. The edges will cook the fastest, so any thickness in the middle of the baking sheet will end up undercooked and crumblier than I like.
Bake at 350 degrees for 15-20 minutes or so (watch closely so it doesn't burn) until oats star to look toasted and light brown. Play around with how cooked you want this to be – I like mine kind of chewy.
Nutrition Information
Serving Size: 15
| | |
| --- | --- |
| Per Serving | |
| Calories | 202 |
| Fat | 11 grams |
| Protein | 5 grams |
| Carbohydrate | 23 grams |